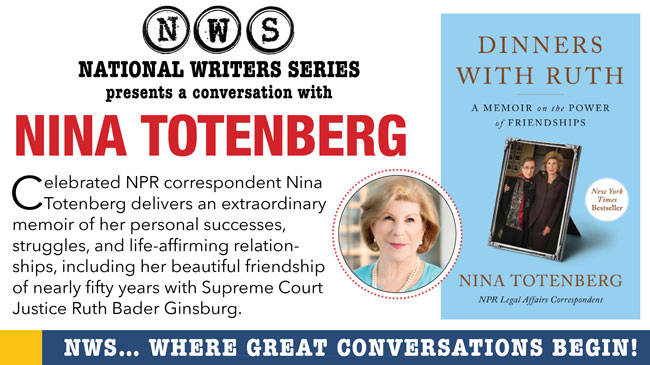 ---
NWS proudly presents a virtual conversation with NPR legal correspondent Nina Totenberg! Guest host April Baer will take the City Opera House stage to chat with Nina, who will link into an on- stage monitor. Each ticket buyer will get a virtual ticket link AND a City Opera House general admission ticket, which means a choice to watch the event at home or at the City Opera House.
Doors open at 6pm for a reception with April Baer. Each ticket comes with Nina's hardcover book, Dinners with Ruth, which can be shipped to you, picked up at the event February 10, or picked up at Horizon Books! The event starts at 7pm.
Watch Party Definition: This is a unique event. Nina Totenberg will not be in Traverse City for this event. Instead, we're delighted to welcome her to the City Opera House through Zoom where guest host April Baer will interview her. You can attend this event at the City Opera House, but only April will be on stage talking to Nina Totenberg via television monitor.
---
Performances
Friday, February 10, 2023 - 7:00pm
---
Sustaining Sponsor: Begonia Charitable Foundation & Diana Milock
Season Sponsor: NorthGuard Technology Group
Event Underwriter: Debbie Edson
Literary Sponsor: Bay Books
Development Sponsor: Michael & Rhonda Estes Family
Arts Benefactor: Northwest Michigan Arts & Culture Network
Grantors: Michigan Arts and Culture Council and the National Endowment for the Arts
Michigan Media Sponsor: Stateside Radio
Media Sponsors: Traverse City Record-Eagle, Interlochen Public Radio, Up North Media, Midwest
Broadcasting, Northern Express
Supporting Sponsors: Image 360, Horizon Books, Amical, Cambria Suites, The Copy Shop
Official Airport: Cherry Capital Airport