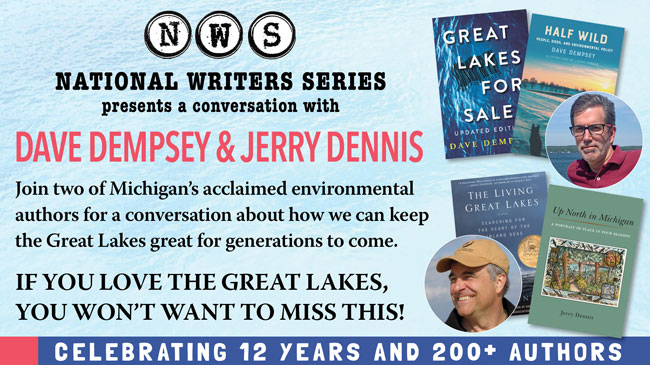 ---
An Evening with Dave Dempsey and Jerry Dennis
Join us on August 25th for an evening with two of Michigan's greatest environmental authors.
Event Details:
On August 25th, join the National Writers Series for a conversation with authors Dave Dempsey (Great Lakes for Sale) and Jerry Dennis (The Living Great Lakes) where we'll learn how we can help keep our Great Lakes great for generations to come.
---
Admission
Reserved Seats: $15 or $25. Student tickets are available.
---
Performances
Thursday, August 25, 2022 - 7:00pm
---
Thank you to our major sponsors:
Sustaining Sponsor: Cordia
Summer Season Sponsor: Today's Golden-Fowler Home Furnishings
Development Sponsor: Michael & Rhonda Estes Family
Summer Season Arts Benefactor Sponsor: NWMIArts.com
Grantors: Michigan Arts and Culture Council and the National Endowment for the Arts
Media Sponsors: Traverse City Record-Eagle, Northern Express, Traverse Area Community Media, Midwest Broadcasting, Interlochen Public Radio
Supporting Sponsors: Image 360, Horizon Books, Amical, Cambria Suites, Copy Central
Official Airport: Traverse City Cherry Capital Airport