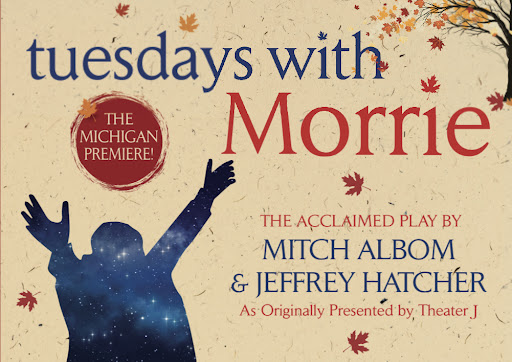 ---
City Opera House is proud to present the Michigan debut of Tuesdays with Morrie, the play, written by Jeffrey Hatcher and Mitch Album, based on the best-selling memoir of all-time by Mitch Albom, Aug. 10-14, 2022.
Tuesdays with Morrie is the powerful and moving story of Mitch Albom, a hard-driving sportswriter, and Morrie Schwartz, his former college professor. This tender, yet profound play, originally presented by Theater J, recounts the two men reuniting as Morrie faces his own mortality as an ALS patient. What starts as a simple visit turns into a weekly pilgrimage and a beautiful lesson in humanity, compassion, and friendship.
The play comes to the Opera House stage this summer in a six-performance run in celebration of the 25th anniversary of the book's publication.
---
Admission
VIP $75 (Aug 10 show only), $30, $25, Students $15
---
Performances
Wednesday, August 10, 2022 - 7:30pm
Thursday, August 11, 2022 - 7:30pm
Friday, August 12, 2022 - 8:00pm
Saturday, August 13, 2022 - 2:00pm
Saturday, August 13, 2022 - 8:00pm
Sunday, August 14, 2022 - 3:00pm