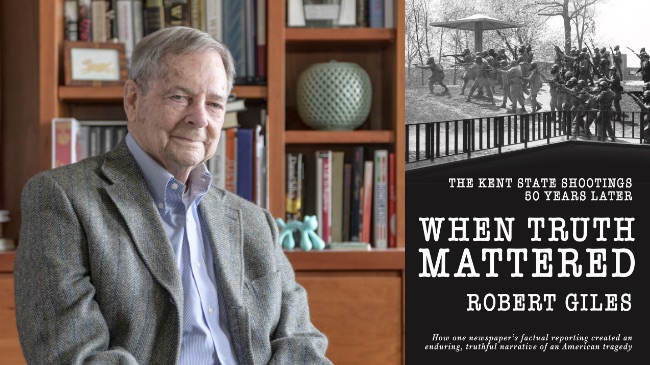 ---
In response to COVID-19, this in person event is canceled. Ticket purchasers will be receive a full refund from City Opera House.  
An evening with Robert Giles will now be a virtual event on November 10.
---
Former Akron Beacon Journal editor Bob Giles will recount The Kent State shootings and how his reporters were able to get it right. His new book, When Truth Mattered, takes you inside the turmoil of the newsroom when bullets exploded on May 4, 1970, leaving four students dead and nine wounded. The heart-pounding story captures the flash of National Guard rifles, the stress of reporters pursuing the truth, and shows why high journalistic standards must still apply today. 
---
Admission
FREE - Virtual Event
---
Performances
Tuesday, November 10, 2020 - 7:00pm
---
This event was made possible by: A Generous Friend of NWS; Sustaining Sponsor Cordia; Season Sponsor Rehmann; Event Underwriters: A generous NWS donor; Grantors Michigan Council for Arts and Cultural Affairs, National Endowment for the Arts; Media Sponsors Midwest Broadcasting Co., Traverse City Record-Eagle, Northern Express, Interlochen Public Radio, WNMC.